SugarDaddie.com Review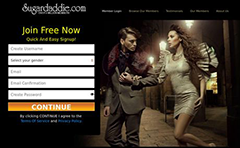 The primary purpose behind launching SugarDaddie.com was to bridge the gap that previously existed between the rich and affluent class and the commoners. Furthermore, it aims to allow both these classes of the society to get in touch for a mutually beneficial relationship. The tag line of the website – where the classy, attractive and affluent meet is appropriate given the services it offers.
Pricing
Everyone can join this website free of charge. However, you shall not get access to the complete set of features available on the website, for which you will have to upgrade. Premium membership will fill that void too. The subscription charges are stated as under:
$24.99 per month.
$49.99 for 3 months of premium membership.
$84.99 for a 6 month premium subscription.
Annual membership is priced at $124.99.
Features
As stated earlier, free users have limited access to the website's features. Some of the features offered to standard members are as follows:
Perform basic search to discover your prospective match.
Browse through photos of other members.
View partial profiles of fellow members.
Maintain hot list and block list to prioritize people whom you view as prospects.
Round the clock customer care helpline.
Get access to thousands of dating tips straight from experts in the field of dating and other experienced people.
Apart from the features stated above, premium members on this site enjoy access to a few additional features.
Check out full profiles of other members.
Use the website's built – in mailbox to send as well as to receive emails.
Break the ice! Initiate a conversation with people whom you find interesting.
Give your opinions on the forums page, not only to know what others think about a particular topic but also to build relations with like – minded people.
Use the advanced search options to get more accurate search results.
Final Verdict
SugarDaddie.com has been the pioneer in the sugar daddy – sugar baby dating domain. The site is informative, stylish, and clean and has a no-nonsense user – interface. Navigating is no rocket science and menus are logically implemented.
The process of creating a profile is a little tedious. The site follows rigid standards when it comes to profile approval in order to keep scammers at bay. The website follows an excellent search algorithm, which makes it easier for users to find a prospective match.
SugarDaddie.com also has a block option that can be used by members to prevent members from contacting them or finding their profile on the website. The website lacks instant messaging and chat box features that are available on many sites of this category. Nevertheless, the missing features don't tend to have a significant impact on the effectiveness of this site.
All in all, if you are in search of an rich and affluent man who you think can take care of your financial needs, SugarDaddie.com is the place you should definitely explore.