Secret Benefits Review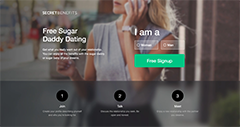 Secret Benefits is a website that has been flourishing for just a short period of time but it's already establishing its place on the market that is now jam packed with sugar daddy websites. It is ideal for sugar babies and sugar daddies who are looking to find relationships that are mutually beneficial to them. Your confidentiality is guaranteed on Secret Benefits, no matter what kind of arrangement you are trying to set up. Whether you are a pro at the sugar lifesyle or it is brand new to you, this sugar daddy website is super easy to use.
Pricing
Membership on the website is free but you do need to purchase "credits" in order to do pretty much everything that can help you find what you are looking for. It actually works out cheaper the more credits you buy and you can then message more people which increases your chances of finding a suitable arrangement for you.
100 credits - $59.00 (costing $0.59 each)
500 credits - $169.00 (costing $0.33 each)
1000 credits - $289.00 (costing $0.28)
To give you a brief idea of how much you can actually get for your credits, you have to pay 10 credits to start a conversation with somebody and have subsequent conversation. You also need to buy to view somebody's private photos. Credits tend to go a long way unless you are using the site 24 hours a day. There are also things you can do without paying a single cent on Secret Benefits including create a profile picture, making a favourites list, browse profiles and see who has viewed your profile.
Features
There are many appealing features on this website, all of which are designed to help you find the sugar baby or sugar daddy of your dreams. Some of these are as follows.
There are advanced search options available which helps you in finding exactly what you are looking for. If you have particular preferences in terms of appearance, you can pretty much make your perfect date from eye color, height and body size. You can also search for members based on age, location and more. Keep in mind that you do need to have credits on your account in order to actually get in touch with a member.
Secret Benefits tries their best to verify their members, which increases your safety online. There are filters which give you the option to only see verified members and those with photos. You can verify your own account by sending in a photograph of yourself holding up your identification. Although this site is as safe as can be, utilizing their features makes it even more so. By pressing "recently active" on the filter, you will only see the profiles of members who log in on a regular basis which stops you wasting your time.
There is a really clean interface and you can use Secret Benefits on your computer or your phone depending on your personal preferece. It looks attractive and it is easy to use even if you are brand new to "dating" sites.
A matches button allows you to easily see members who could be great potential sugar daddys for you. This works by pairing you with anyone you have put in your favorites and who has put you in theirs. You will also be shown a list of any private photo albums that you have been permitted to view.
This website has positive reviews from customers from different countries around the world so it could well be worth a try for yourself.
Pros
It has a great reputation and a large number of members, with more signing up every single day. You are likely to find potential people to date who live in your area on Secret Benefits and it is all kept completely confidential.
You get the chance to chat to different people for as long as you want on the website before you meet in person.
The extensive search options are extremely beneficial especially if you have a certain type of person that you are looking for. It means that you will not waste your time by chatting to people who do not fit your criteria.
There is a great support team available to get in contact with 24/7 and their number one aim is customer satisfaction. This is perfect if you experience problems with the site or any of the members.
Having to buy credits is actually much more convenient than being tied into a monthly subscription that you might not use. You only pay when you are actually interested in someone and once you have credits on your account, they do not expire so you can take as long as you like browsing who is available.
The matches feature allows you to narrow down the playing field and see who has been spying on your profile.
Cons
You do need to buy credits in order to do all the things necessary on the website to meet somebody which might work out to be pretty expensive if you are talking to a number of people.
It does not have as many other features as some similar sugar daddy sites out there including video chat.
Final Verdict
Secret Benefits has all the qualities necessary to find an arrangement that is perfect for you wherever you are at in your current state of life. Whether you are looking for a sugar daddy, a sugar baby, a friends with benefits situation or something else entirely. Never rule out love, anything is possible with online dating and stranger things have happened on sugar daddy websites. This website is perfect if you are looking for a relationship that isn't as typical as what most people search for. Being a sugar baby has all of the benefits but none of the hassle that a relationship often entails. Sign up today to see if you enjoy using the site and if you do, you can take from there.