MissTravel Review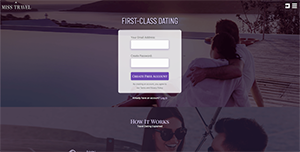 MissTravel.com belongs to an entirely different class of websites that are based on the idea of mutual benefits. Nevertheless, this site doesn't extensively promote dating as its primary objective. This is a very different site both in terms of design and features. Basically, it aims to attract generous men and women who seek an attractive companion while on the trip. This out of the box concept has helped MissTravel.com earn a place in leading media journals.
Features
The idea behind this site has attracted a lot of users. Basically, the site is divided into 2 distinct groups. Whilst one group encompasses generous members who have planned a vacation and are looking for a good looking partner to take along, the other group encompasses attractive members who are in search of a wealthy host who can fund the entire trip.
There are three ways that this site proposes and members have the freedom of following any of those.
Come to Me: A generous host invites an attractive male or female companion to hang out and have fun with.
Travel with me: In this, the wealthy host may ask an attractive individual to travel to a different destination with him / her. The wealthy person shall bear all the expenses incurred on the trip.
Show me your town: In this way, you can ask a generous person to sponsor an all expense paid trip to his town. This would allow you to spend some quality time together and explore a new place absolutely free of cost.
Another key element of the site is the background verification process that gives attractive individuals the confidence to travel with a stranger.
Final Verdict
The tag line of this website "Date Abroad: Attractive Girls Travel Free" completely sums up the core purpose of this site. This site would serve as the ideal platform for those who love travelling but don't have the funds to fulfill their expensive interests.
This site is where you can connect with people who are rich but don't have a companion to hang out with while on a vacation. The site also boasts of a blog section that provides ample information on some of the most exotic vacation spots across the globe. The site is free to join for both men and women.
If you love travelling but are unable to fulfill your desires due to lack of funds or lack of company, this travel dating site can give the ideal kick-start you had been waiting for.